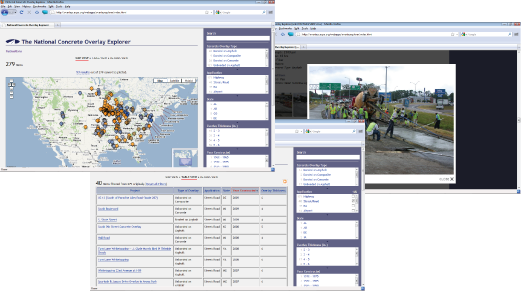 Filtering data, switching view styles, sorting data, and exporting data are all very easy functions in the National Concrete Overlay Explorer:
FILTERING: Use the Search tool or any combination of filters in the right column of the page to display only the data of interest.
VIEWS: Select the MAP VIEW, TABLE VIEW, or DETAILS VIEW at the top of the page to view the data in each of those formats.
SORTING: Clicking on a column header in the TABLE VIEW organizes the data in ascending order by that column; clicking the same column header again organizes the data in descending order by that column. The DETAILS VIEW allows you to sort the data by any combination of variables; click on the "group as sorted" option if you would like headers for each sort group to appear.
EXPORTING: When your cursor is placed in the data panel inside of the TABLE VIEW, an orange scissor icon will appear in the top-right corner of the data panel. Clicking on this icon will allow you to select various methods to export the data. For example, you might use the Tab Separated Values option to generate a format that might be used to import the data into a third-party software such as Microsoft Excel.
For more details on concrete overlays, see the following ACPA publications and on-demand webinars: